I confess...
... I'm really socially awkward. I used to think it was just a little bit, and that was funny, but it has gotten so bad that it's almost crippling. I come off as a straight up idiot more times than not. Obviously the other person (or people) hardly ever knows that I've fucked up but I feel like a Grade A Moron. Case in point: The Bus Story.
A few weeks ago, I was taking the bus home from work, as I normally do.I'm generally the last person on the bus when it gets around to my stop. I have this habit where I get up the stop before mine, walk near the front, and wait. Well my usual bus driver was not driving the bus that day. So when I get up he just assumes it means I want the next stop, which is not mine. Instead of saying "oh no sorry, I'm the next one" I panicked. I felt bad that he had already
slightly
started slowing down. I felt too guilty to ask this man to
do his job
.
Now I'm rationalizing in my head why I should get off: "Well you could use the exercise, Melissa."
So I got off.
I now have a ten minute walk to my apartment, when I remember there's a shortcut between two houses on the bay behind my parking lot. I start walking into the subdivision and realize I have no idea where I am. So I walk... and walk... and it's icy. So I fall. It's snowing, I'm cold, and I finally see the path. But it's not a path... it's two feet of snow. So I trudge through it and finally make it into my apartment; I'm soaking wet, cold and pissed off.
All because I couldn't say "next stop please".
I'm the worst.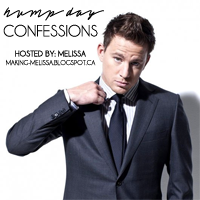 <a href="http://www.making-melissa.blogspot.ca"
target="_self"><img src="http://i1291.photobucket.com/albums/b558/waitingonsunshine/humpday2_zps9bc00284.png" alt="Making Melissa" width="125" height="125" /></a>