I confess...
...I just watched When Harry Met Sally for the first time this past Good Friday and I'm mad at myself for never having seen it sooner. It was seriously one of the best movies I've ever seen and I fell in love with Billy Crystal a little bit more than I thought I ever would.
...I followed that up with Austenland. Now I'm just waiting on my own Mr. Nobley. (Go watch it, soooo good!)
...the new book has been chosen for April for #pluckyreads
Cyber Book Club
and it was the one I voted for :)!
...I had three family dinners this past weekend and I have never felt so full in my life. I still have leftovers.
...one of the family dinners was a priazzo night. So we made priazzo and gambled and drank and it was great. Great because I won two pots. So $50 makes me holla. It was also great because Jamie and I had a sleepover for the first time at my apartment and cousin sleepovers are my favorite sleepovers.
...my new roommate has spent the last week moving in. It's weird to not live with Anna anymore, and I already miss it, but I'm really excited for this new chapter with another good friend!
...I house/dog sat for one of my best friends last week and her dog Nova and I cuddled for three days straight. And then she tried to steal the bed...
Now tell me your confessions!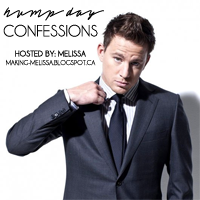 <a href="http://www.making-melissa.blogspot.ca"
target="_self"><img src="http://i1291.photobucket.com/albums/b558/waitingonsunshine/humpday2_zps9bc00284.png" alt="Making Melissa" width="125" height="125" /></a>