I confess...
...I'm really fucking awful at scheduling these ahead of time. I promise I'm going to work on this. All of you ladies who still want to link up and wait for my sorry ass to finally post, you the real MVPs.
...I went to soccer for the first time in weeks yesterday and it made me sad I'd skipped so many games. But how am I expected to be physically active at 10 pm on a weeknight?! It's so unfair. If all games were at 8 I would go.
...I had a lovely coffee date with my dear friend Liz on Monday and it really made me open my eyes and see things as they were for once. It looks like some big changes are going to be coming to my life. I thank you lady for being such an amazing confidante!
...All my friends have the cutest dogs who love them and love to cuddle with them and are just adorable and I'm stuck with this grumpy gus...
I'm really unhappy right now in general, so I feel like I need to end the confessions right now before things take a dark turn. Please link up below so I can distract myself by creeping all your posts!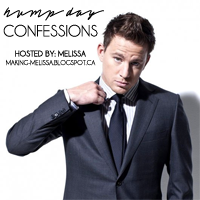 <a href="http://www.making-melissa.blogspot.ca"
target="_self"><img src="http://i1291.photobucket.com/albums/b558/waitingonsunshine/humpday2_zps9bc00284.png" alt="Making Melissa" width="125" height="125" /></a>