I confess...
... 10 weeks straight of confessing makes for a lighter heart.
... thank you all for the kind words in response to Friday's post. I'm just in a weird place and it was nice to just write.
... I've been a baaaaad blogger lately but that's going to change. Expect to see about 100 comments from me in the coming days. Actually, you're gonna wish I were still a bad blogger...
... I've recently rediscovered my love of learning. It went on the backburner for a while but now I'm just grabbing anything I can get my little grubby hands on. Using my brain again is a nice feeling.
... And on that, I've decided to write the LSAT. So my life will soon be a lot of studying and not much else.
... The Bachelor was super underwhelming this season and I was really looking forward to The Bachelorette. Until they announced there were two that is. I think it's ridiculous. #TeamKaitlyn. My Canadian homie!
... I'm so excited to be a part of a blogger book club! I love that
Sarah
has put it together and I'm really looking forward to our "meeting". Talking books with a glass of wine while
in bed
? My life is soon to be complete.
... I couldn't go to New York :(. Andrea is currently catching a flight to the one city that I would have cut off my left hand to visit. I hope to be able to accompany her next time. Being poor sucks!
Don't forget to link up your confessions! I'm about to creep y'all reaaaal hard.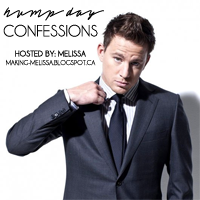 <a href="http://www.making-melissa.blogspot.ca"
target="_self"><img src="http://i1291.photobucket.com/albums/b558/waitingonsunshine/humpday2_zps9bc00284.png" alt="Making Melissa" width="125" height="125" /></a>