I confess...


... chivalry annoys the shit out of me. Poor Jay. The amount of times I've snapped on him for trying to help me walk on ice in heels is unbelievable. "I can do it myself!". God I can be such a brat. #independentwoman


... my knowledge of pop culture is borderline ridiculous. Sunday night I went to my parents for dinner and stayed to watch the Grammy's. Jay sat there jaw agape at the sheer amount of useless facts I knew about celebrities. "How do you even know who married who, and who had a baby, and who is feuding? It's... insane." It's called The Internet and I spend far too much time on it.


... I am anti 50 Shades. I think the writing is garbage and the only decent thing about the fact they turned it into a movie is the soundtrack. Don't get me started. I swear, if I knew that's what would sell, I could have written something better in two days. Is this a new trend? Turning fan fic into novels? Sign me up ffs.


... I eat Subway approximately 4 times a week. Can I afford it? No. Does that matter? Apparently not.
... every time Anna makes me read a Jodi Picoult book I swear I will never do so again. And yet here we are, reading Perfect Match, and screaming internally (and sometimes externally) throughout the entire thing.


... I am glad Beck won that Grammy. That man oozes talent and deserves the recognition.
... I get a little bit.. ahem.. riled up listening to this song. And this man is coming in June. And I will seduce him. He will be mine. I love this ginger more than I ever thought I would ever love a ginger.
That is all. I need to go take a minute after this song.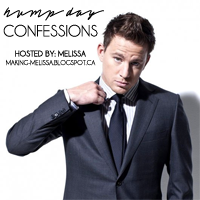 <a href="http://www.making-melissa.blogspot.ca"
target="_self"><img src="http://i1291.photobucket.com/albums/b558/waitingonsunshine/humpday2_zps9bc00284.png" alt="Making Melissa" width="125" height="125" /></a>