Humpday Confessions are upon us again. Where do the days go!? January is just flying by and I'm unsure how I feel about that.
I confess...
...I am really disappointed in this season of The Bachelor. I was all for Farmer Chris and thought he would be great, but he's kind of a player and needs to keep his tongue in his mouth.
...When I say "I don't want to be the girlfriend that says no..." it means you should probably come to the no conclusion on your own and not do whatever it is you're asking me to do.
...I tweeted at Eli Roth last night and he favorited my tweet and that brief brush with a celebrity was the most excitement in my life in the last 4 weeks.
...But really you should go watch Aftershock. Eli is a genius and I love him and everything he does ever (see Cabin Fever, Hostel, Hemlock Grove, The Last Exorcism, Inglorious Basterds), and if The Green Inferno does not get released I might die.
...I don't have a lot to confess today. I mean I've been mostly just working a lot.
...I did however choose not to go out on Saturday and opted for staying on the couch in my pajamas watching Ghost Adventures all night.
...In one week I read 3 books: Paper Towns by John Green, An Abundance of Katherines by John Green, and Eleanor & Park by Rainbow Rowell. All good, you should check them out.
Now go link up so I can creep your confessions!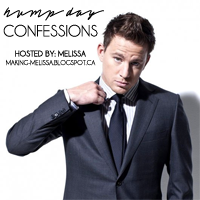 <a href="http://www.making-melissa.blogspot.ca"
target="_self"><img src="http://i1291.photobucket.com/albums/b558/waitingonsunshine/humpday2_zps9bc00284.png" alt="Making Melissa" width="125" height="125" /></a>