Break-ups are as natural to life as a lion taking down a gazelle and probably twice as painful. Unfortunately, my girl Jessi is learning that right now. But she's here to discuss breakups and red flags. She explains it better than I do, but really girls, don't settle for someone who is pretty much waving a gigantic red flag over their head. It won't end well. Anyway, let's just let Jessi take this one.
***********************************************************************************
Hi! I'm Jessi from
JumpingJE
.
Let's cut the awkward and get the record straight that I'm not a relationship expert. I've dated handsome assholes and awkward nice-guys. I've attracted both men and women, single or otherwise. I've played games and broken hearts. I've loved to the depth of my heart and had it rejected. I am currently single and ready to mingle figure my own shit out before I jump back into the dating world.


My most recent "relationship" was of the broken-heart variety. That's in air quotes because the cuts are still fresh and it was one of those
breakups
that you wouldn't wish on your worst enemy. It was also one of those life-changing moments that has propelled me into the greatest and clearest mental state I've experienced in my adult life.
To help me get over the sadness anyone would feel from any breakup - I turned to family, friends and bloggers. Each came with a different side and different logic, but all signs pointed to "ditch the dingo", "what's his face doesn't deserve you" and "just be single for a while".
The Laurel Gazette
made me laugh with her take on her sister's breakup and Nadine from
Back East Blonde
had some solid tips that every girl should be aware of, either for herself or her bestie.
Kensie
asked for my phone # over snapchat and I escaped for a girl's weekend with my dearest friend in Seattle.
The very best piece of advice however came from Mom (doesn't it always?!).

She insisted that I make a list of all the bad, mean and scary things that I'm not looking for and won't ever put up with again. Sure it's great to know what you want in a partner, but you're even better to know when to run like hell and block a crazy from entering your amazing world.
So, I took mom's advice and I'm ready to share some of my Massive Red Flags. Deal-breakers, Get-out-of-my-facer's, stop-wasting-my-timer's. It's been incredibly eye-opening to see all that I've put up with from lovers, roommates and friends over the years. Enjoy!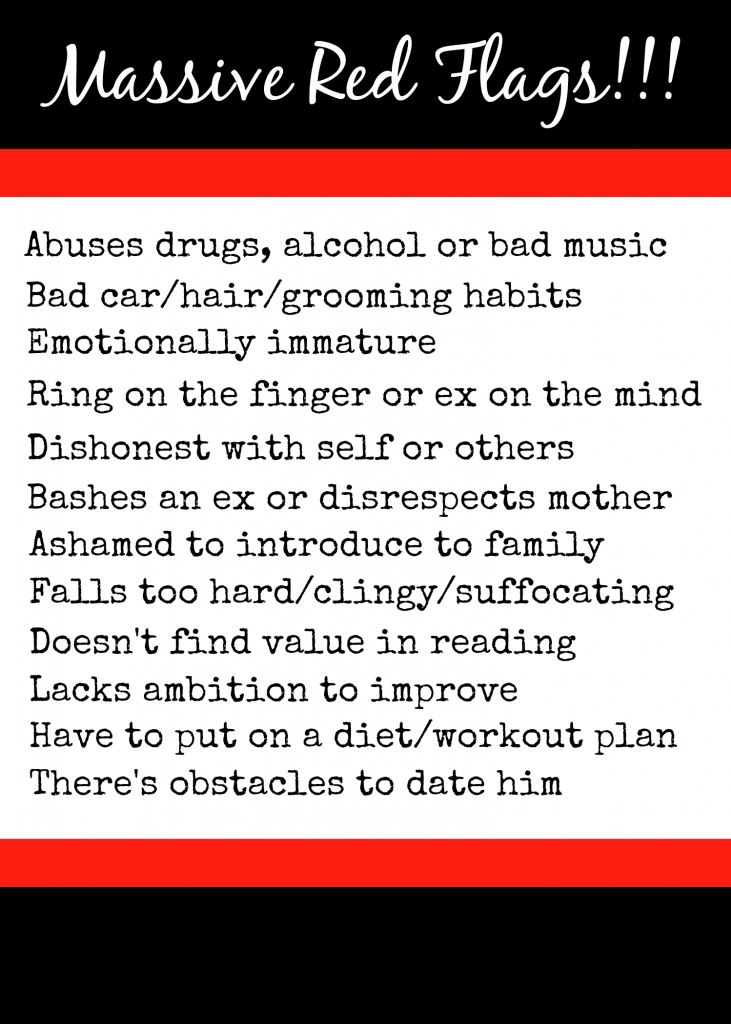 Try making your own and let me know what you come up with!
Thanks Melissa for inviting me to stay and play!
***********************************************************************************
Now it's your turn. What are your dating red flags?