Can I just say thank the the Lord that it is the long weekend?! I have never been so tired.
Plus, our summer staff finished today and it was so bittersweet. I'm really going to miss everyone! I'll be all lonely at my desk now.
To kick-start everyone's weekends and to provide a distraction for Friday Afternoon at your desk, here is my High Five For Friday: Top five videos I've watched on YouTube this week.
The Video Dating Tape of Desmondo Ray
Oh Sweet Lorraine
Hopeless Wanderer - Mumford & Sons
(with Jason Sudeikis, Jason Batemen, Will Forte & Ed Helms)
Sir Patrick Stewart's Quadruple Take Masterclass
How To hold A Cat as shown by Macklemore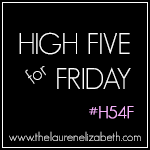 I hope everyone has a safe and enjoyable September long! Can't wait to hear about everyone's weekends on Tuesday.